2019
Vessels In Ultra-Gushy Historical Color
Eri silk, beeswax, dye made from cochineal, weld, and logwood
8 panels
23 x 72 in. ea.

Made for In Situ: Site-Specific Textile Installations
Presented by Stockpiler and the Hoxton Hotel, for Portland Textile Month
Vessels hold. Cracked vessels hold, slip, spill, break, and come to hold something else. Curvy pitchers with willful arms and full-bellied amphoras stretch across silk panels installed in street level windows on SW Burnside. Each silk is hand-painted with beeswax, and dyed in deep colors cooked from cochineal beetles, weld, and logwood shavings. I then burn poetic text and fracture lines into some of the vessels with a laser engraving machine. Text and textile work like fractures to crack open ridgid histories. This way of working is informed by my experience of surviving, and ultimately breaking, cycles of domestic abuse. Vessel Series explores what is created through shattering.
Inspired by Sara Ahmed's discussion of Silas Marner's earthenware pot in "Fragile Connections,"
Living a Feminist Life.
Photos by Nina Johnson
Transcription of poems burned into silk in my handwriting using a laser engraving machine:











SLIP
SPILL
LEAK
LET




POROUS BODIES SLIP
IN BRUSHY MEETINGS




STICKY WORDS,
COME UP
OUT MY MOUTH.




TO HOLD, TO SPILL, TO BREAK,
AND TO HOLD SOMETHING
ELSE




UNBRUISE
HER
BODY!




COCOON
ME
IN
SHARED
SPACE




NO SHAME
IN A WORMY NEED
TO BE HELD

I KEEP MY RAW EDGE.


2018
Soft Engraving
Laser-engraved wild Eri silk, cochineal dye, kozo paper, plexi tubes, thread
Dimensions Variable
2017
Eyelash wallpaper
Dimensions variable
2018
I'M PITTED LIKE LIVID FRUIT (keep ur sugar pills bb)
Canvas, linen thread, puffy yarn, ink
30 x 25 in.

Presented by Jade Novarino for Conduit at Utopian Visions Art Fair,
A part of PICA's Time Based Arts Festival.
FLAG
was a group exhibition curated by Jade Novarino (
Conduit, Penny Press, & Campo Collective
), to be hung on the building outside of
Utopian Visions Art Fair
, as refusal of a booth.
Featuring: B. Anele, Marisa Barone, Madeline Garcia, Taylor Hurle, Marissa Katz, Chloe Margarita, Blue McCall, Laruen Nelso, Samimi Reis & Victoria Anne Reis, Maya Rose, Gillian Spencer, Taryn Tomasello, and Karina Yoo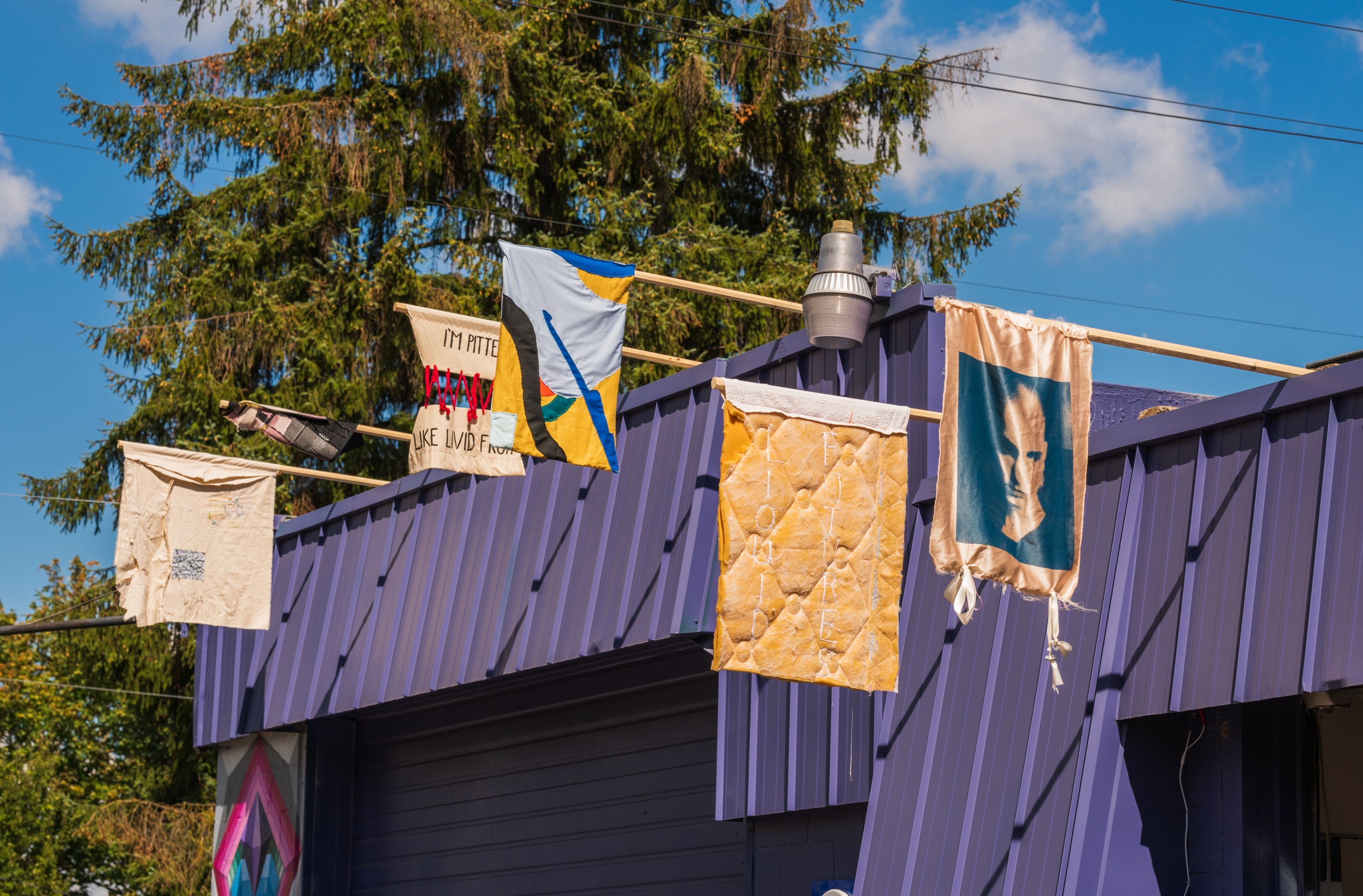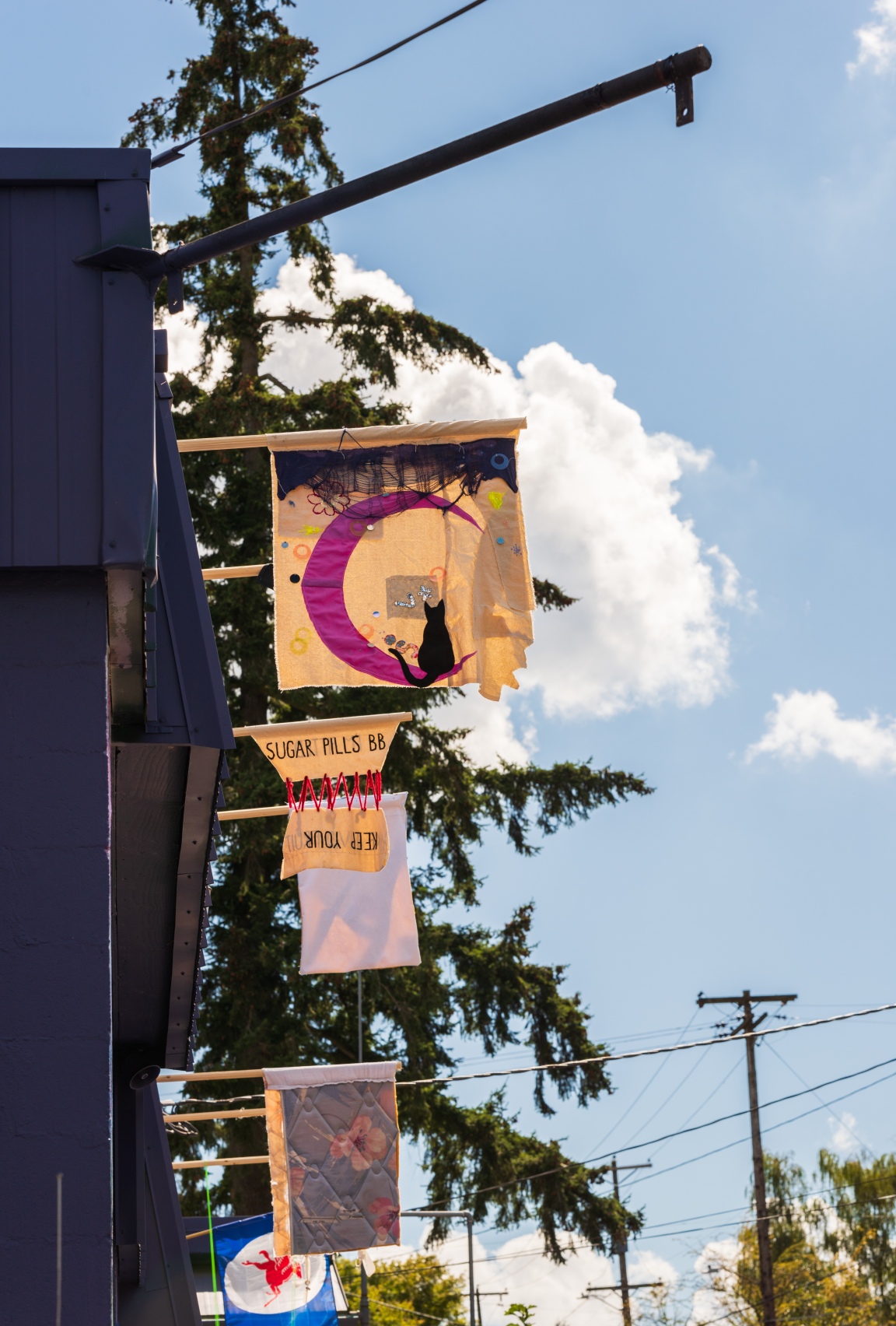 Utopian Visions Art Fair was an alternative art fair that provided a platform for artists, gallerists, and curators to present projects that work towards possible, alternative futures. It happened over three days, September 14 - 16, 2018, in an empty auto garge in Portland, OR.

Featuring:

Institute for New Connotative Action (INCA) with:
-–Martha Rosler, Aeron Bergman and Alejandra Salinas, Joshua Hughes
John Riepenhoff Experience
Carmen Winant
Alice Konitz
Conversations curated and hosted by Asha Bukojemsky
Institute for Interspecies Art and Relations with:
– Aidan Koch, Shawn Creeden, Lisa Schonberg, Mixed Needs
The Institute for Queer Ecology with:
– POSADAS (Pablo Herza + Ignacio Hernández Murillo)
Private Places with:
– M. Page Greene
manuel arturo abreu
u: Curated by Ana Iwataki and 
Marion Vasseur Raluy with:
– Kim Farkas, Alix Ferrand, Anna-Lisa Hölger, Hanna Hur and Michael Kennedy Costa,
Lila de Magalhaes and Harley Hollenstein, Benjamin Reiss, Brittany Shepherd, Naoki Sutter-Shudo
Et Al with:
– Laurie Reid and Cybele Lyle
Chicken Coop Contemporary with:
– Arnar Asgeirsson
Conduit
Williamson | Knight with:
– maximiliano
2727 California Street
Victor Maldonado with:
– Laura Medina, Marie Conner, Vanessa Briones Englund, Julian Adoff
Nicolo Gentile & Sam Williams
Lundgren Gallery with:
– Christopher Richmond
OV Project Space with:
– Cat Ross
Pegasus Project
Garden with:
– Genevieve Belleveau & Themba Alleyne, Sarah Rosalena Brady, Sarah McMenimen,
Lindsey A. Schulz, and Kyle Welker
Keith J Varadi with:
– Joshua Bienko, Naomi Fry, Jeremy Jansen, and Joe Sola
Derek Franklin
E.Swearengin and Lexie Smith
Midori Hirose & Mia Ferm with:
– Sam Hamilton, Ben Glas, Daniel Menche, Shannon Kerrigan, Nick Bindeman & Danny Sasaki
Lucy Chinen curated by Jesse Stecklow
Tropical Contemporary
Good Weather with:
– Layet Johnson
Demian DinéYazhi'
UPFOR with:
– Moreshin Allahyari